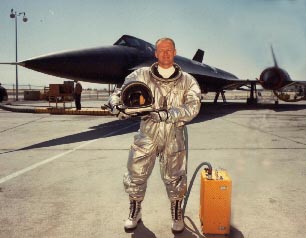 The yellow unit is a portable air conditioner
INTRODUCTION
My name is Ray Scalise (that's me in the picture) and I was a flight test enginer for Hughes Aircraft Company (HAC). One of my duties (some say privileges) was to fly as a Fire Control Officer (FCO). This meant I flight tested radar systems designed and built by HAC. Prior to flying in the YF-12A we used a B-58 Hustler as our test vehicle.

There were three BLACKBIRD model aircraft built by Lockheed Aircraft Company. The first was the "A" model built for the CIA as a spy plane. The second model was the YF-12A, which was designed as an interceptor. The concept being that at 2000+ miles per hour the plane could intercept Russian bombers before they even got close to our borders. It was in this model HAC installed the ASG-18 missile fire control radar system.

The third and most famous was the SR-71 built for the Air Force as a Recon (spy) plane. It was in the active Air Force inventory until the mid 1990s.

The stories contained herein are some of my recollections of "interesting" happenings during the flight test program of the YF-12A. You may ask why did I pick the title "Perils of Pasquale"? (you were expecting Pauline, maybe?) Well....I am of Italian descent and my middle name is "Patrick". Pasquale equates to patrick in Italian. So....I thought "Perils of Pasqual" would be a catchy title.

The "Fatal Adjustment" story is my fictionalized version of a true happening to a pilot and a friend who flew the the "A" model. The following story of "In Search Of" is one persons quest to find the crash site.

ANY QUESTIONS?